TEL.: +45 / 33 11 02 82
FAX.: +45 / 33 28 02 81
EMAIL: INFO@LKEDESIGN.DK
WEB: WWW.LKEDESIGN.DK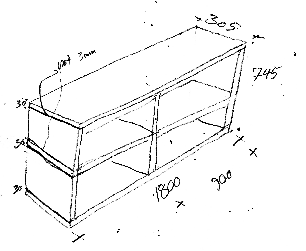 3D CAD Libraries
- Make your products visible in the digital world

Most new building projects are designed in CAD (Computer Aided Design) and we see more and more sales prospects showing the "completed" building with welcoming interiors long before the first sod is taken. Tendency is clear - 3D visualizations are becoming a natural part of the modern building's documentation.
At modern design studios time is a significant factor. Deadlines are constantly right around the corner - and the need for fast and lifelike results are an ever-present stress factor. There is often no time to model furnishings, lamps and other furniture and assesories required to get the interior to look complete and trustworthy.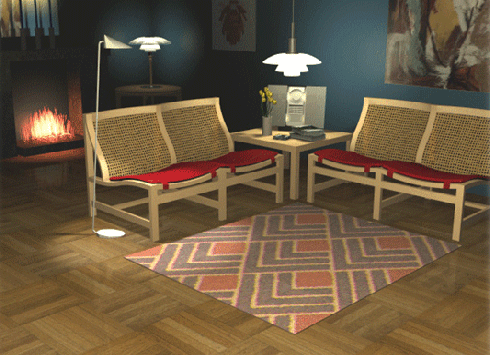 Help the 3D illustrator to sell your your products
The access to readymade 3D digital models of a given product can be crucial to whether the product will be chosen for the project at all.
A 3D CAD library eases the work of architects and visualization agencies. You give them the ability to design and visualize with your products without adding extra working time to their tight production time, and you increase the chance of getting your products exposed in design competition sites and on sales prospects for new building sites around the world.
Usually these digital product-placements leads to increased sales.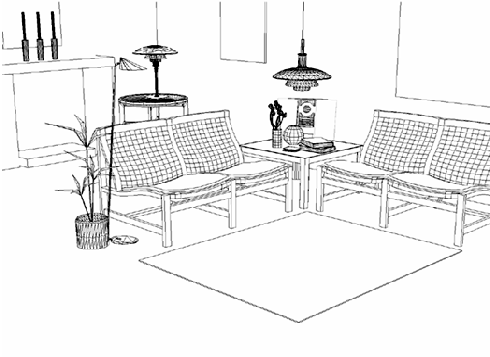 What are the posibilities
A CAD library is not just a CAD library. It may be formed and distributed in many ways.
Formats
CAD models can be published in multiple formats and kinds, each optimized for a specific purpose. They may, for example. targeted to aspecific programs, such as:
● Adobe Illustrator ™
● AutoCAD LT ™
● AutoCAD ™
● AutoCAD Architecture ™
● Revit Architecture ™
● 3DS MAX ™

It all depends on the target group you want to reach and how broad you want to go out.
3D visualization blocks
3D visualization blocks are CAD models designed specifically for 3D visualization applications, such as 3D MAX. The models has been predefined with material properties so that they can be reproduced photorealisticly "right out of the box".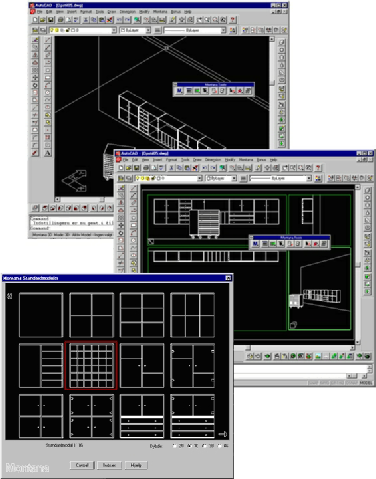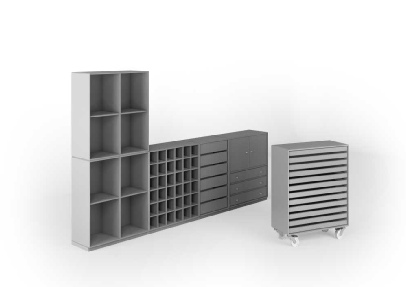 What is a 3D CAD Library
A 3D CAD library is a collection of digital 3D models, known as blocks, of products that the architect/3D illustrator insert in his 3D scene to document how an interior or exterior going to look like.
Each 3D block is optimized specifically to be used in 3D CAD. They are made in a level of detail that both meets the proper representation of the product and the requirement to the models to be quick and easy to work with on the computer.
At the same time, it must be impossible to reproduce physical imitations of the product by using the models as base.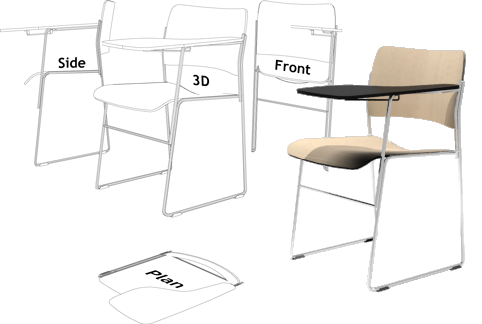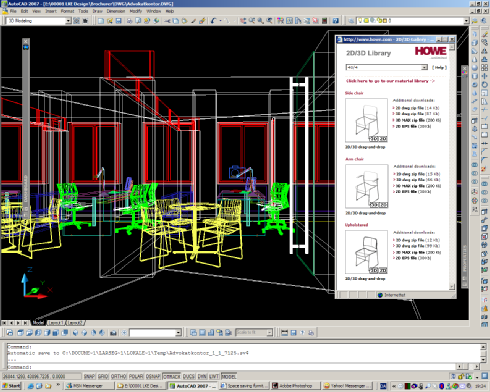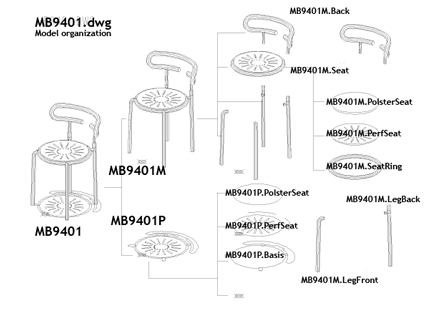 How do we get started
Contact us for a free, no-obligation analysis of your needs and possibilities.
We will analyze your products and your target market and subsequently put together a quote for just the right package for you and your customers.
Once we get started, we will lead you through the entire process from start to finish.
We will work closely with your design/development team, ensuring that we stay true to your products design, visual appearance and functionality.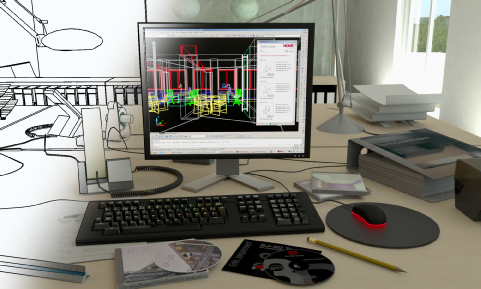 What do we need
Many processes in 3D modeling are similar to the way the physical product are produced. Therefore, in principle we need the same information as if we were to make the actual product.
We can pretty much use everything - the better the drawings we get, the easier job it is for us to make a good and lifelike result. At the same time you will save on the cost of a time-consuming and relatively costly measuring.
We can use construction drawings in 2D on paper or as digital drawings - at best fully dimensioned with all dimensions.
Alternatively we can use 3D design models from i.e. Inventor or SolidWorks. We build the models so that they include only relevant visual information. We remove eg. patented secrets and the like.
All drawings, and similar information provided to us is of course regarded as confidential.
If there are no drawings of the product at all, we can obviously also stand for a physical measuring of the product.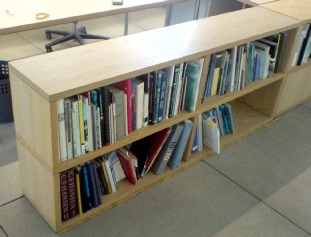 Why LKE Design
LKE Design has since 1991 developed 3D CAD libraries and AutoCAD plug-ins for a variety of furniture and lighting manufacturers in Denmark.
As architects and experienced 3D illustrators, we have a detailed knowledge of procedures in a design studio and not least how a 3D CAD library should function to give your customers the best and most educational tools to solve their tasks.
We have extensive experience and expertise in modeling optimized 3D models for CAD libraries.
We are praised for our development of lightweight and educational AutoCAD plug-ins, giving the oportunity to add even very advanced functionalities to your 3D CAD models.
We can also take care of the preparation of texts, design/layout and production of documentation and marketing material in connection with the publication of your 3D CAD library.
All in all, we see ourselves as a solid and competent partner that has the designer's mind and creativity - and the technician's expertise. In our view a good starting point for developing your next 3D CAD library.
Testimonials from our customers

"LKE Design was the right choice when HOWE A/S should have developed a 2D/3D library of our furniture solutions for interior use.
LKE Design has a deep knowledge of our target requirements and use of models and also has a very quality oriented approach to the development process. This is crucial parameters for HOWE, as well as LKE Designs always alacrity and qualified advice.
The result of this collaboration is to HOWE today has a functioning and future-oriented 2D/3D library available on our web site.
We have only positive feedback from our customers. "
Lars bruntse, Sales Manager
"LKE Design has for many years been Louis Poulsen Lighting A/S's close collaborator, where LKE Design with its visionary approach has been responsible for the development of our 3D library programs for AutoCAD, which in its design has been at the forefront of development.
LKE Design is therefore a natural choice for the development of tools to our website, where 2D/3D models can be imported in various CAD and Visualisation programs.
In the same context LKE Design has also advised on the quality control tool designed to ensure a consistently high quality in the production phase of the models. "
Henrik Boe Nielsen, Technical Sales Manager

The 3D CAD library can be published on Web sites - or shipped on CDs or memory sticks to your customer.
If there is a need for special user interaction when inserting the models of your products, special plug-ins can be developed. One can thereby take away cumbersome or time-consuming processes for the users - and at the same time minimize the risk of having your products being shown with design errors, such as out of scale, poorly proportioned or other irregularities.
We can offer a complete solution ready for publishing on the Internet or shipped directly to your customers.